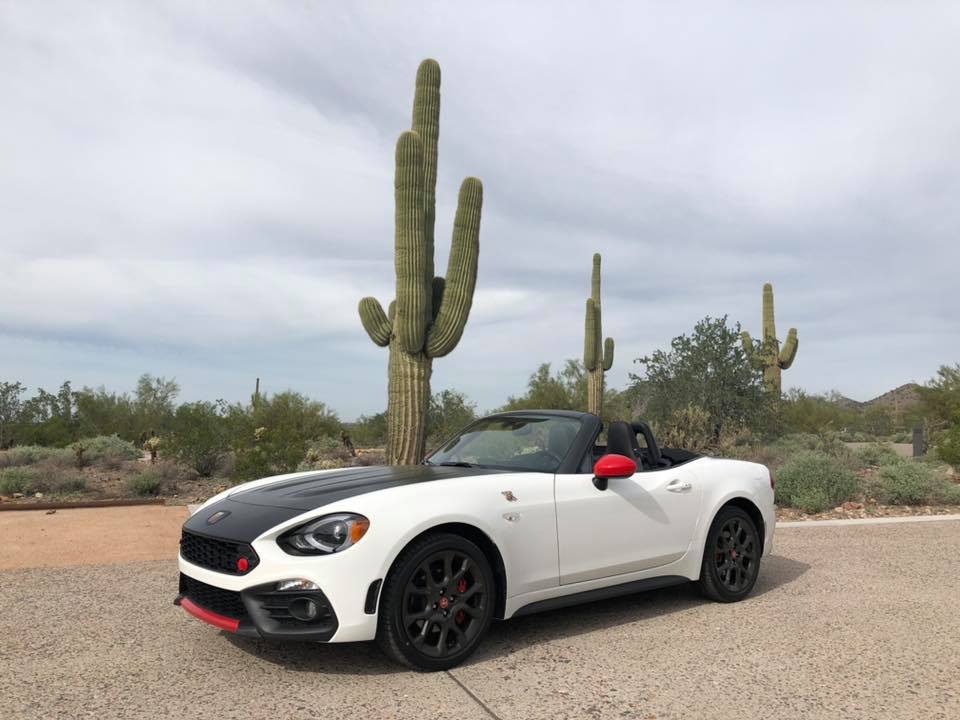 A girl walks into a bar. (I know. That's an unconventional way to start a car review, but stick with me for a minute.) Guy asks girl about the car she's driving – the 2018 Fiat 124 Spider Abarth. A debate ensues about other cars with the "Spider" moniker. Porsche? Ferrari? Yes and yes. Although the former uses the hipper "Spyder" variant. In fact, the designation is used by a number of manufacturers to denote that the vehicle is a drop-top. For a history lesson on why, I'll direct you to the good folks at Road and Track.
In addition to being fodder for barroom discussions on automotive minutia, the 124 Spider Abarth has many fine qualities, and draws interest for reasons way beyond its name. But since we're talking names, Abarth signifies Fiat's performance trim, named after the brand's founder, Karl Abarth, with its scorpion logo a nod to his astrological sign. And there's another trivia tidbit to file away in the archives.
Fiat 124 is essentially a Mazda MX-5 Miata, but with sexier exterior that recalls its 1960s heritage (the original debuted in 1966 and was produced through the 1985 model year), and more luxe interior. The engine is all Fiat as well – a turbocharged inline four cylinder that produces 160 horsepower (164 in the Abarth) – and is paired with an excellent six-speed manual transmission with a short-throw shifter. A six-speed automatic is also available.
The Brilliant White 124 Abarth that I had the extreme pleasure of driving for the week also came adorned with a hand painted black heritage racing stripe across the hood, and red outside mirrors and front accent. It turned heads like few cars I've driven, with some fans asking me to rev the engine as I pulled out of the local Starbucks. The Fiat Spider is a blast to drive, supremely nimble with quick acceleration and crisp handling. It is low to the ground, but road noise is not overly invasive with the top up. It's not library quiet, naturally, but also not as harsh as other small sports cars I've driven (I'm looking at you, Alfa Romeo 4C).
The interior is attractive, mostly lifted from the Miata, but with upgraded leather and materials that give it a little Italian flare. The aforementioned drop top is a snap to use, and can be easily opened or closed from inside the car. My favorite feature – aside from the standard heated front seats, which I love in any vehicle – were the speakers mounted in the headrest which provided clear sound for hands-free calls and jamming to the premium Bose sound system with the top down.
Ultimately, I loved the Fiat 124 Spider Abarth. For its looks. For its performance. And for the lessons on its history and heritage that just might win me a bar bet here and there.
Vital Stats
Fiat 124 Spider comes in three trims: Classica ($24,995), Lusso ($27,495), and Abarth ($28,195)
Price as tested: $38,210
Fuel economy (city/highway/combined): 26/35/30
What I Loved: It's tough not to look good driving the Fiat 124 Spider. It has sexy good looks, is fun to drive, and makes a great conversation piece to boot. Where it lacks in practicality, the 124 Spider compensates in pure enjoyment and style.
What I Didn't: While all models start under $30,000, adding niceties like Recaro Alcantara leather sport seats, premium sound, Brembo performance brakes, and heritage paint escalates the price in a hurry.