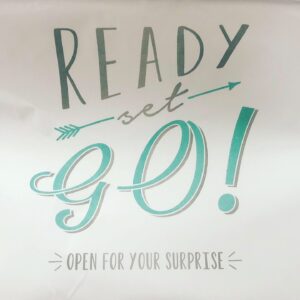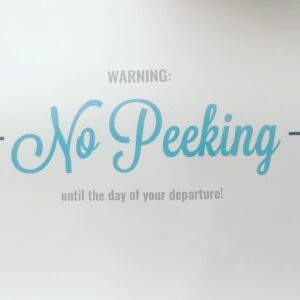 My friend Elise and I wanted to plan a weekend getaway. The discussions went like this:
"We should do a girls getaway."
"Yes! Where should we go?"
"Somewhere cooler, where we can hike, eat some good food, explore."
"Yes! Let's do it. We'll look at dates and decide on a location."
Same conversation whenever we'd get together. For about a year. We'd throw around dates, come up with some potential destinations, but family, work, apathy got in the way of our grand ideas. Essentially, we wanted to go somewhere, but didn't have the time or the motivation to plan something.
Then, Elise stumbled upon a website called Pack Up + Go, which bills itself as a "surprise travel agency." The gist of it is, they plan a three-day getaway for you, but the destination remains a surprise until the day you leave. Intriguing? Yes. A little scary for someone who likes to plan a vacation right down to the last museum tour? Also yes. It took us about another six months to throw caution to the wind, and say, "Let's go for it."
The reactions from our friends and family ranged from, "That's so cool!" to "You are crazy," but everyone wanted to see how it would pan out.
Making a Plan
First things first. We picked a date and a budget. The minimum requirements are $400 per person for a road trip, $650 by plane or train, which is guaranteed to cover the cost of travel and accommodations. They do recommend upping the budget if you plan to travel over a holiday weekend, and you'll usually get more bang for your buck by staying away from peak travel times. If you set a higher budget, Pack Up + Go will plan some activities for you at your destination.
Date set, we filled out the online survey. It asks about the last three to five trips you took for vacation, any upcoming trips, or places you frequently visit. For travel style, you can choose between action, relaxation, or culture and then from a list of hobbies and interests, which range from museums and historical attractions, to outdoor activities, antiquing, craft beers, and more. There's also a spot for filling in what you do and don't like to do on vacation, and expanding upon your interests.
Our criteria included hole-in-the-wall restaurants, craft beer, parks and nature, and a few others, and we set our budget at the $650 minimum. After checking a few boxes, adding where we'd been, where we've lived, we wrote the following:
"We like to be outdoors and have access to nature, but also have nice options for dining. We enjoy experiencing the local culture, and being able to walk to shops/restaurants/activities when possible. We like quirky, unusual, spots that you can't find just anywhere. We're traveling from Arizona, so want to get out of the heat! We've done San Diego, California beach cities, so not looking to do that. Northern California would be ok," and swiped our credit cards.
And then we waited.
No Peeking!
A week prior to our departure, we got an email with the weather forecast for our destination, a brief list of what to pack (walking shoes and hiking boots, an empty stomach, and a camera), and the time we needed to be at the airport, and when we'd return.
The day before departure, our envelope arrived with instructions not to open until we got to the airport. All of the information in the envelope also came via email on the morning of our departure, and included a link to boarding passes.
Our destination was…
Seattle!
The Pack Up + Go team set up dinner reservation at Lola, a local Greek restaurant for our first night, and then included three pages of a detailed, suggested itinerary for our three days in Seattle. They did a great job of recommending places that fit our preferences and interests, like:
A list of all the local neighborhoods and a description of the vibe we'd find there.
Local museums – We visited the Museum of Pop Culture, but they also suggested the Seattle Art Museum, and a few others.
Outdoor sports – One page listed some great recreation areas, including Discovery Park. We hiked at Carkeek Park which had a nice, well-marked trail system, that took us through wooded areas and landscapes that vastly differed from hiking trails back home.
Craft beers/cocktails – Our list included local restaurants, including places to grab a craft beer or cocktail and listen to live music.
Quirky/touristy – We found a few of these, as pointed out on our list. The Gum Wall (gross), and Bill Speidel's Underground Seattle Tour fell into the unusual territory, while Pike Place Market and the Space Needle were on the more traditional must-see list. We also took a ferry to Bainbridge Island the morning before heading home, which was a welcome suggestion that we likely wouldn't have discovered on our own.
The Verdict
In the end, I would definitely recommend Pack Up + Go if you're looking for a three-day getaway with a friend, significant other, or even as a family trip. They go to 68 or so destinations around the country. The itinerary was detailed, yet flexible, offering options and recommendations that really fit in with the preferences we indicated in our survey. The day-of-departure email included everything in our envelope, plus links to an interactive Google map, a link to local events happening during our stay, and a number to call or text, day or night, should issues or questions arise.
I can't wait to try this again, maybe next time with the family. Our trip was expertly planned, seamlessly executed, and checked all the boxes on our survey. I couldn't have done it better myself.
If you want to take the planning out of your vacation, and are up for the mystery, visit Pack Up + Go and start your survey now. Mention my name in your referral.